Fifty Shades Freed ***Spoiler Alert***
My sailor, teacups, friends and I gathered together for the last installment of the 3 part series, excited as ever to witness the final chapter of the lovebirds, Christian Grey and Anastasia Steel and let me tell you, YES, you should see it.
Fifty Shades was an intro to the young couple as well as Grey's singular interest playroom. And as much as Grey intrigued Ms. Steel, it wasn't enough for her to compromise her needs or tolerate his limitations on love.
Chapter two - Fifty Shades Darker - Grey recognizes that he has a problem and begins working on it in earnest while simultaneously wooing Ana. Once Ana recognizes the improvement she allows Christian back into her world. Throw in a third and fourth party drama, tinged with a bit of danger and a dash of violence and voila, Christian and Ana come out in the end unscathed and very much together.
Chapter three - Fifty Shades Freed - Yesssssss people this is what I have been waiting for - the nuptials and they don't waste any time giving it to us. Scene one shows Ana in her incredibly delicate and form fitting (and what a form) lace wedding gown fit for royalty and not to be outdone by his beautiful bride, Christian delights in his classic black and white suit! A walk down the aisle, romantic kiss, wedded bliss and we're off to the races and onto life after marriage. You will undoubtedly note the fast pace of this film but there's a lot of ground to cover before solidifying an everlasting picture of this couple's life both in the present and future. Heaven knows we want our happy ending and everything in between!
What's beautifully portrayed in this film, much like the other two is that Christian and Anastasia are in love and have the ability to alter their behavior, thoughts and actions in order to maintain their relationship. They've given us a phenomenal lesson in prioritizing a relationship above all else and they make it look easy. And that's because they can, it's a movie people! That's what romantic movies do, inspire us to believe that love makes all things possible. And I for one am a believer!
Anastasia has come into her own entirely in this film much like her vampire counterpart in another film with burgeoning similarities, Kristin Stewart of Twilight. The Ana that we see in part three is more confident, self assured and sexy without loosing any of her sweet, kind and calm demeanor. She is a beautiful mixture of innocence and integrity, and can disregard Christian's money, power or self assurance when her needs are not being met. Ana quickly put a stop to their sex game and spoke her mind when she recognized that Christian was using sex in order to punish her. She has a gift for being able to express her thoughts and feelings coherently to Christian without utilizing game-play or emotional blackmail to lend weight to any of her arguments.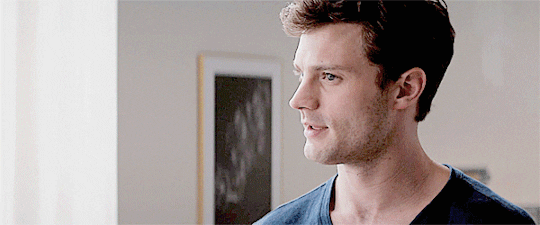 Christian is devoted to Ana but remains in control and I can't help but note underneath the fairy tale of it all, he keeps her on quite a short leash; tracking her movements with two security guards, obtaining her chief editor position in a publishing house that he frequents at will. Hmm, yes this does give me pause and can be a bit disconcerting. However although Ana acquired her dream job from Christian she is succeeding on her own merit. There's nothing wrong with a little pre-feminist position - after all the movement was created to give us a choice, not to make one for us. Secondly the security guards were justified as there is a dangerous interloper lurking about. (Lame as that subplot was for all the build up about J Hyde (note those initials boo boo) - I could have sworn that we were going to find out some diabolical revelation as to why he was so hatefully and violently tracking the Greys.) Instead it turns out that J. Hyde was just another kid coming up in the system right alongside Christian and was overlooked by the Greys who chose to adopt Christian. Seriously???
In any case, it's clear that Christian feels comfortable maintaining a certain amount of control over Ana's comings and goings but he isn't a dictator about it.
Ana allows a certain amount of latitude in this area and it's reasonable to assume that after the near miss rape in 50 Shades Darker, she doesn't mind her man keeping such close tabs, for now.
One of my favorite scenes takes place after Ana informs Christian that she's pregnant and he doesn't find his way home until the next morning. When Ana questions him he openly admits to spending the night with his "Mrs. Robinson," though they did nothing but talk. Oblivious to Ana's growing horror, he continues to explain that Elena's known him since he was a little boy and he needed her.
Much to my absolute delight Ana fired back that she needed Christian and he abandoned her, choosing instead to confide in Elena. She forced him to understand that his choice had consequences and that her acceptance of his actions was a foolish foregone conclusion. She ended the conversation by stating the obvious, that he was no longer a little boy and he needed to "grow the fuck up."
This is just one of the many interesting issues that the couple is forced to deal with and their subsequent analysis and solutions are what I find most inspiring and intriguing to watch.
As the last of the installment concluded, it was clear to me is that no couple is perfect, least of all these two. But their strength and beauty lies not simply in the fact that they're madly in love with each other but that they both have prioritized their relationship on the top of their list. They are willing to listen to each other and work out a suitable solution that's based on understanding each other's needs as well as their own. And I took that formula along with my water bottle, to be recycled!
#Lust #ChristianGrey #DakotaJohnson #JamieDornan #FiftyShadesFreed